Roger W. Smith
Roger W. Smith's journey has seen him go from practicing the 34 skills of the Daniels Method in his parents' garage to today being widely viewed as the flag-bearer of British high horology. From his workshop on the Isle of Man, Smith produces fewer than 18 watches a year, each one made entirely in-house and finished in a tradition informed as much by classical English watchmaking as it is by the method championed by his mentor Dr George Daniels.
Even in the world of independents and their small output of pieces, simply handling a Roger W. Smith is a rare pleasure, while owning one is a privilege even fewer enjoy. His steadfast commitment to producing watches of an English style – in the storied tradition of the likes of Thomas Tompion, George Graham and John Arnold – is as evident on the dial as it is on the finishing of the movement. This historical fidelity stands him apart in modern watchmaking.

While closely tied to Daniels' legacy, Smith has charted his own path and is today viewed as one of finest modern watchmakers, not just in Britain but anywhere in the world. If Daniels reinvigorated curiosity in the country's rich horological past, Smith's watches have sustained that interest.

With a wait time of five years for a finished watch, and Smith currently not allocating new pieces, collectors are looking at the watchmaker's past work with renewed interest.

It would be no exaggeration to say that Smith, in collaboration with Daniels, birthed the modern, finely crafted British wristwatch. He has since furthered that tradition, whether it is with the continued development of the co-axial escapement, experimentation with complications or his evolution of the English watchmaking aesthetic itself. While the 18 watches he now creates annually benefit from the distillation of his unique perspective, the pieces he has created under his own name since 2003 offer a rich study in his progression as a watchmaker.
As a London-based organisation, A Collected Man's interest in Roger W. Smith is perhaps obvious. Over the last eight years we have spent a significant amount of time studying Smith's philosophy and dedication to championing British watchmaking, speaking with the watchmaker and visiting his workshop. This has afforded us a position of knowledge from which to advise those looking to sell and buy the more than 15 pre-owned of his pieces we have handled so far.

It is worth noting the historical significance of some of these watches in Smith's catalogue of work. It includes the Grande Date Flying Tourbillon No. 1, Tourbillon No. 3 with Date, an open-dial Series 2 bearing the No. 00-OD as well as the only stainless-steel Series 2 ever made. This is in addition to the unique Series 1, with a dial customised by A Collected Man, which fetched a world record price.



A piece of history
The calibre, visible through the caseback, is the only flying tourbillon to have been designed and made in Britain. The tourbillon is fully black polished while the rest of the calibre wears a frosted finishing, typical of English watchmaking.


One of four
The 42mm red gold case is finished to a high degree and features engravings marked "Tourbillon Commission" alluding to the fact the watch was one of four tourbillon watches Smith made on special request.
Showcasing finishing
On display is the watchmaker's mastery of hand craft, with the complex dial featuring a series of finishes and two distinct patterns of machine-turned guilloché. The scalloped spade tips on the hour and minute hands are also beautifully crafted by hand.


Blue numerals
Those familiar with Roger W. Smith's aesthetic will recognise how unusual it is for the numerals to be any other colour but black. In fact, this was the first watch to feature such blue ink Roman numerals. The engravings on both the dial and movement were the work of one of Britain's last master engravers, Charles Scarr, who worked on Dr George Daniels' watches.
Stainless-steel case
The 38mm case is entirely unique, as it is the only one R.W. Smith piece ever crafted from stainless-steel. It bears several visual hallmarks that date that identify it as a Mk 1 variant, be they the more rounded edges or the shorter, more curved lugs.
The movement
Viewed through the display caseback, the manual wind calibre is the very first iteration of Smith's single-wheel variant of his mentor Dr George Daniels' Co-Axial escapement. This marks it as a watch produced prior to 2010, when a newer evolution of the design was put into production.


Refreshed aesthetic
Visible through the sapphire crystal, the open dial is marked by the frosted, gilded finishing of the calibre. This example, produced late in the series before it was spun off as the Series 5 Open Dial, features several key visual hallmarks of early Series 2 dials, but with a re-imagined, open-worked face to show off the finely finished mechanics.


Perfectly balanced
The simplicity of the 40mm, white gold case, with its straight lugs and fluted crown, perfectly balances a watch where the visual intrigue comes from a wonderfully interesting open dial.


A story of evolution
As the first watch to feature Smith's lightened, single-wheel variant of Daniels' Co-Axial escapement, this piece is particularly significant. The calibre, while featuring many of the visual hallmarks of traditional English finishing, is marked apart by its custom, floral engraving on both the three-quarter plate and balance cock.
Roger W. Smith
Series 1, Unique Piece, White Gold, Auction
See Details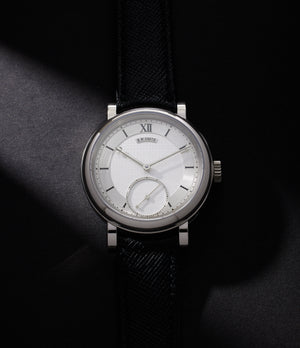 SELL YOUR ROGER W. SMITH WATCH
A Collected Man is the leading online platform for discovering, buying and selling the world's most exceptional watches. Whether you are an experienced collector or a first-time seller, our team of in-house experts will leverage our comprehensive expertise and personalised approach to advise you on the best available options for selling your Roger W. Smith watch.
Want to hear more?
Sign up and be the first to hear about Roger W. Smith watches.
ROGER W. SMITH